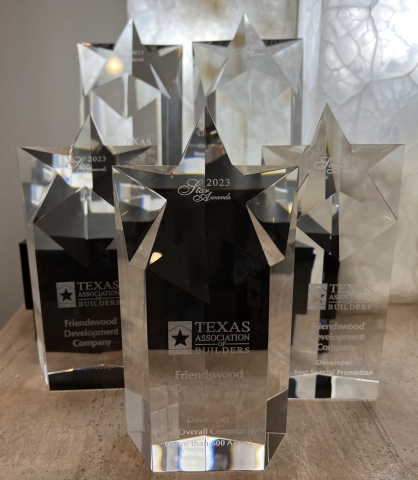 See More News Now
Friendswood Development Company Wins Five 2023 Texas Star Awards
July 18, 2023
The Texas Association of Builders (TAB) announced the 2023 Annual Star Awards winners in conjunction with the Sunbelt Builders Show™ On July 14th at the Fort Worth Convention Center. Celebrating the 30th anniversary, the program brought in over 600 entries that resulted in five Grand Awards and 174 elite trophies handed out by co-emcees Andy and Ashley Williams, founders of Recon Realty and former hosts of HGTV's Flip or Flop Fort Worth.

Friendswood Development Company earned the top award in the following categories at this year's awards:
Best Website – Developer – Baytown Crossing
Best Special Promotion – Discovery New Home Tour
Best Overall Community over 600 Acres – Tavola
Best Direct Mail – Realtor Connect Guide
Best Print Ad – Discovery New Home Tour 60th Anniversary Ad

In addition, Friendswood Development Company was a Finalist in seven additional categories, including Best Overall Community 299-500 Acres for Ladera Creek, Best Amenity in Tavola, Best Amenity in Woodtrace, Best Brochure, Best TV, Best Video and Best Email Message.

The Star Awards have been given annually since 1992 as the only statewide tribute to excellence in the homebuilding industry recognizing excellence in all areas of the residential construction industry. These awards are highly coveted within the industry. Our great state should be proud of its builders, remodelers, architects, designers, developers, and sales, marketing, and construction professionals. Projects and nominations were submitted by 103 companies from across Texas.

About the Texas Association of Builders: Founded in 1946, the Texas Association of Builders is an affiliate of the National Association of Home Builders and has 26 local home builders associations across Texas. With a membership of nearly 10,000 representing over 758,000 jobs and more than $71.5 billion annually in the Texas economy, TAB plays a crucial role in providing housing for Texans.